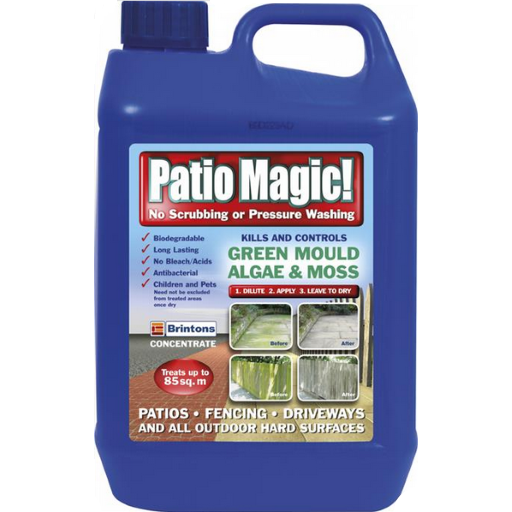 Patio Magic 2.5 Litre
Product Ref: 16491
Brand: Patio Magic
PRODUCT INFO
Patio Magic! is a concentrated disinfectant for the easy treatment, removal and prevention of green mould and algae on hard surfaces. Also suitable for indoor use, and as a pre-fungicidal wash. Kills green mould and algae typically within 2-4 days, and helps to gently clean the treated surfaces in the following weeks and months.
How to use
Patio Magic! is quick and easy to use without the need for hard work. Just dilute the concentrate in a watering can or low-pressure garden sprayer and thoroughly wet the affected surface, then simply leave it to dry. Patio Magic! does the hard work without the need for acids, bleach or scrubbing.
Patio Magic! kills green mould and algae quickly, showing visible results in 2 to 4 days and goes on cleaning over the following weeks.
Where to use
For use on all kinds of hard surfaces including brick, paving, patios, walls, paved areas and driveways. Whilst this product leaves no deposits or stains, it is recommended that you test on a small area if unsure.
Cautions
To avoid risks to man and the environment, comply with the instructions for use.
Children: Patio Magic! is non-acidic and contains no bleach. But, as with any household cleaner, please take normal precautions and keep our products out of reach of children.
Pets: as a precaution, keep pets and wildlife off the treated surfaces until they are dry (if they accidentally walk or sit on the wet surfaces, then promptly rinse their paws or fur in clean water).
Plants: do not splash or spray directly onto plants; if you do this by mistake, then simply flush them with plenty of water.
Fish: do not allow any run-off into fish-tanks or ponds, or contact with any aquatic life.
Brintons Patio Magic! is approved for use in Great Britain, Northern Ireland and the Republic of Ireland.