Bug Clear Ultra Concentrated 200ml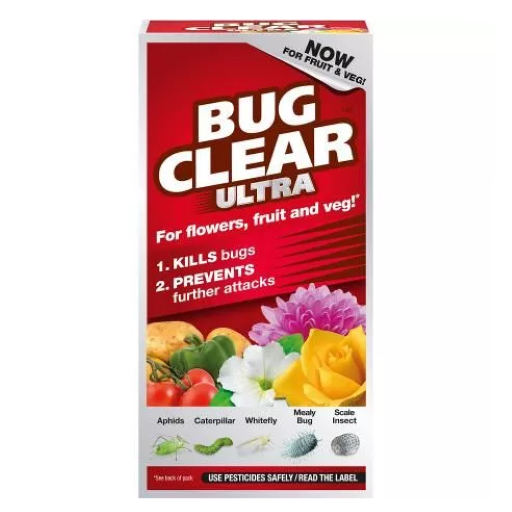 Bug Clear Ultra Concentrated 200ml
Product Ref: BUG200
Brand: CLEAR
PRODUCT INFO
BugClear Ultra is a contact and systemic action insecticide offering a broad spectrum of pest control that protects for up to 3 weeks. Kills all major pests including whiteflies, caterpillars, scale insects and mealy bugs. This product can be used indoors, outdoors and in conservatories on flowers and fruit & vegetables.
HOW TO USE
Shake the bottle well.

Using the measure provided add the recommended dose (see where to use table on back of pack) for each litre of water in a garden sprayer.

Mix thoroughly and use immediately.

Spray the product evenly to wet the leaves, until just before run-off.
WHERE TO USE
For use indoors and out.
HOW OFTEN TO APPLY
Spray at first appearance of insects/symptoms. If necessary repeat spray after 14 days for houseplants, ornamental garden plants and after 10 days for all other crops.
PRECAUTIONS
Wash hands and exposed skin after use. Do not breathe spray.
Use plant protection products safely. Always read the label and product information before use.