Bug Clear Ultra RTU 1 litre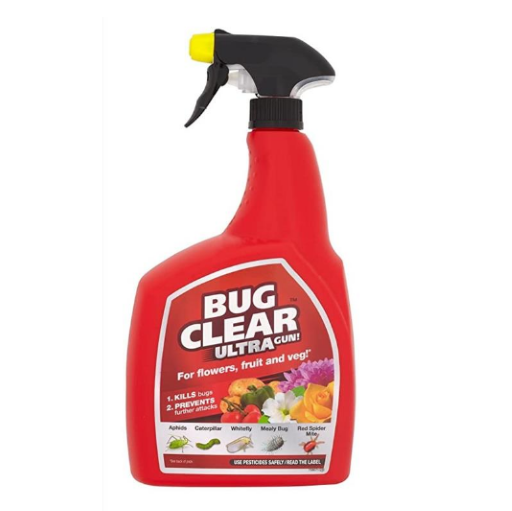 Bug Clear Ultra RTU 1 litre
Product Ref: BUGCSPRAY
Brand: CLEAR
PRODUCT INFO
BugClear Ultra Gun! is a contact and systemic action insecticide offering a broad spectrum of pest control that protects for up to 3 weeks. Kills all major pests including whiteflies, caterpillars, scale insects and mealy bugs. This product can be used indoors, outdoors and in conservatories on flowers and fruit & vegetables.
HOW TO USE
One simple spray of plants growing indoors or outdoors will effectively kill most common pests - just spray the plant thoroughly and BugClear™ Ultra Gun! makes it clean for up to 3 weeks.
Spray at the first sight of insects or symptoms of their presence. It may be necessary to repeat a spray treatment 14 days after the first application on houseplants and ornamental garden plants. For the listed edible crop, a repeat spray treatment should be carried out after 10 days.
WHERE TO USE
For use on houseplants, ornamental garden plants and edible plants - see back of pack for further information.
HOW OFTEN TO APPLY
Spray from the first signs of insects or symptoms. If necessary repeat spray after 14 days for houseplants, ornamental garden plants, and after 10 days for all other crops.
PRECAUTIONS
Keep off skin. Do not breathe spray. Wash hands and exposed skin after use.
Use plant protection products safely. Always read the label and product information before use.
Safety Data Sheet https://www.lovethegarden.com/sites/default/files/content/products/documents/spec_sheets/UK_018981_CLE_msds.pdf