HG Spot & Stain Prewash 500ml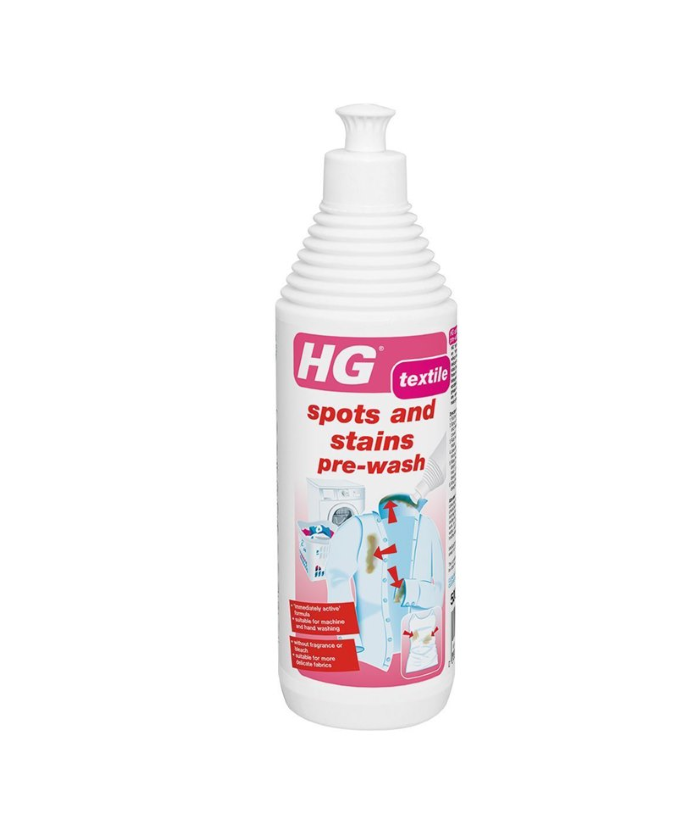 HG Spot & Stain Prewash 500ml
Product Ref: HG279
Brand: HG
PRODUCT INFO
HG spots and stains pre-washStain remover for spotlessly clean clothes
Looking for a stain remover for clothes? HG spots and stains pre-wash removes grease stains, make-up stains and greasy collars from clothes. This stain remover for clothes has a direct action formula and is therefore even suitable for delicate types of textiles.
"Direct action" formula
For washing machines and hand washing
Without fragrance or bleach
Also suitable for delicate fabrics
Use a stain remover for (white) clothes
After spraying on the stain, HG spots and stains pre-wash directly loosens it from the textile, so that your detergent will be able to wash out any kind of stain from your clothing. For removing stubborn stains caused by red wine, tea, fruit juice, chocolate, gravy, spinach, grass and soil, we advise our special spot cleaner for clothes: HG spots and stains pre-wash extra strong.
How do you use HG Spots and Stains Pre-wash?
Follow the steps below to remove grease stains from clothes quickly and effectively with the stain remover for clothes HG spots and stains pre-wash.
Apply HG spots and stains pre-wash liberally to the stains and marks, so that they are fully covered with the product.
Massage the stain remover in and leave to penetrate for a few minutes, but do not allow it to dry.
Put the treated laundry immediately in the washing machine, or wash it by hand in accordance with the care label.